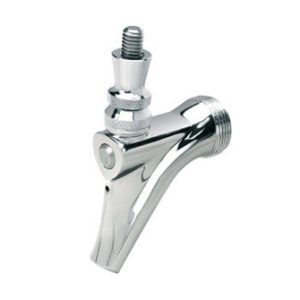 Beer tap faucets are designed to dispense beer under low pressure in order to release the right mixture of carbonation and flavor into the glass. Simply put, when you pull on the tap's lever, a handle opens up and releases gas pressure from the top of the keg — creating a vacuum effect that allows liquid to surge through your beer line and out your glass. 
Beer tap faucets also contain several essential components including:
Tap handle 

Collar

Bonnet

Bonnet Washer

Ball Washer

Lever Post

Faucet Body

Coupling Washer

Valve Shaft

Valve Seat Washer and Shaft Nut
Beer faucet parts feature a very tight seal between all the connecting pieces, ensuring that no beer or gas can escape and that no outside elements find their way in. 
With an understanding of how these components contribute to the process, it's easy to see why beer tap faucets remain one of the best ways to serve cold, refreshing beers to your patrons. To keep the taste consistent and extend the life of each valve, beer lines should be cleaned regularly to prevent build-up and blockage. 
A Head for Profits can provide cleaning and maintenance services for your beer tap faucets. Restaurants that want to serve great beer deserve the best equipment available, and we can provide that.
A Head for Profits Can Install Standard or Custom Beer Faucets
A Head for Profits is also the go-to partner for any restaurant or bar looking to boost efficiency, convenience, and customer satisfaction with custom powder-coated beer towers, through-the-wall taps, and long-draw beer systems. 
With access to standard faucets and the expertise to install custom ones, you can be sure that your business's orders will be taken care of reliably and quickly. Our team at A Head for Profits plans each installation with the goal of boosting your profits. Get complete control over flow rates and pour sizes, and make them one of the best parts of the customer experience for your patrons.
Our experienced design team works directly with restaurants like yours to craft a system tailored to your preferences and requirements, making sure that the beer faucet system runs perfectly and looks great. When you choose A Head for Profits to care for your beer faucet needs, whether you are looking for a durable finish or a stylish design, we don't compromise on value and quality. 
A Head for Profits is With You Every Step of the Way
Not only will we customize and install your beer tap faucet system, but we can also keep it in top condition. Whenever you need to replace beer faucet parts, A Head for Profits has you covered. 
We place a heavy emphasis on providing quality parts that not only maintain the performance of your system but also help prevent damage due to wear and tear. Furthermore, our services are fast and efficient, so your business can get up and running as soon as possible.
So if your establishment could use a custom beer faucet system, click here to request that one of our experts visit your bar. If you are a distributor and would like more information about our services, click here to request more information. We hope to hear from you soon.