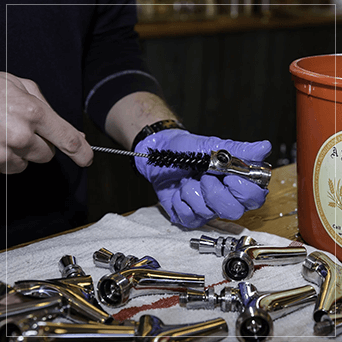 We will service your system on a routine basis to ensure your beer is served clean, crisp, and refreshing. Bacteria, yeast, and beer stone will adhere to the inside of the beer line, which results in an "off" tasting draft beer. With a regular and thorough cleaning service, it will remove any sediment and assure fresh-tasting draft beer.
How often your beer lines should be cleaned:
Firstly, clean your lines once every two weeks.
Secondly, check and clean your lines every time you change the keg.
Thirdly, clean your draft lines with a stronger, acid-based beer line cleaner every 3 months.
8 steps in our comprehensive line cleaning process:
Initial deep cleaning.
Regularly scheduled cleanings.
Quarterly acid renewal cleanings to target beer stone build-up.
Faucets disassembled and cleaned at every visit; washers inspected and replaced as needed.
We brush keg couplers and check washers for wear and tear.
Monitor pour temperatures at every visit.
We keep service records on-premises.
Our proprietary online system tracks when lines are cleaned, so we can verify in real-time.
If your draft beer system needs line cleaning services, click here to request that one of our experts visit your bar.
If you are a distributor and would like more information about our line cleaning services, click here to request more information.

Frequently Asked Questions About Beer Line Cleaning:
Why do dispensing lines have to be cleaned? Proper cleaning of beer lines ensures the perfect pint pour in terms of flavor, aroma and appearance. Regular cleaning of your beer lines, faucet, and keg coupler is also crucial for maintaining a sanitary environment.
How often should I clean my lines? In commercial environments, line cleaning should be performed at least once every two weeks or whenever you switch out a keg, whichever is shorter.
What happens if the beer lines aren't cleaned? The lines accumulate yeast, mold, and bacteria. If left unchecked, the beer stones these create can flake off into your beer, causing an off taste, as well as creating an unsanitary surface that can harbor microorganisms.
What does your cleaning service do for my business? Our regular line cleanings ensure that bacteria do not have the opportunity to reach levels that might cause off-flavors and shorten the shelf life of your beer. The line cleanings also eliminate the build-up of calcium oxalate or "beer stone," a mineral deposit that builds up when dispensing draft beer.
What does the cleaning involve? Our workers disassemble your faucets and clean their parts at every visit. We inspect the washers and replace them as needed. We offer brushes for keg couplers and use them during the process.
When are stronger cleanings necessary? Our acid-based beer line cleaner is only needed quarterly or once every 3 months.
Do I need to call you when it's time for you to come clean the beer lines again? Not at all, we have a proprietary online system that tracks when we last cleaned your beer lines and when to schedule the next cleaning.
How can I confirm when my beer lines were last cleaned by you? We keep service records at your location for you to review at any time.