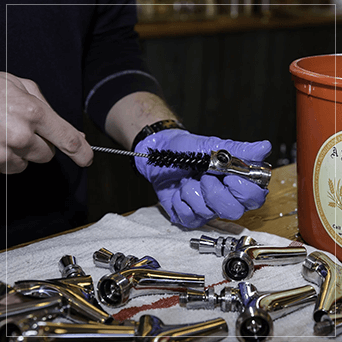 We will service your system on a routine basis to ensure your beer is served clean, crisp, and refreshing. Bacteria, yeast, and beer stone will adhere to the inside of the beer line, which results in an "off" tasting draft beer. With a regular and thorough cleaning service, it will remove any sediment and assure fresh-tasting draft beer.
How often your beer lines should be cleaned:
Firstly, clean your lines once every two weeks.
Secondly, check and clean your lines every time you change the keg.
Thirdly, clean your draft lines with a stronger, acid-based beer line cleaner every 3 months.
8 steps in our comprehensive line cleaning process:
Initial deep cleaning.
Regularly scheduled cleanings.
Quarterly acid renewal cleanings to target beer stone build-up.
Faucets disassembled and cleaned at every visit; washers inspected and replaced as needed.
We brush keg couplers and check washers for wear and tear.
Monitor pour temperatures at every visit.
We keep service records on-premises.
Our proprietary online system tracks when lines are cleaned, so we can verify in real-time.
If your draft beer system needs line cleaning services, click here to request that one of our experts visit your bar.
If you are a distributor and would like more information about our line cleaning services, click here to request more information.