Hanging Draft Beer Towers
Hanging draft beer towers provide a unique way to create more behind-the-bar space at your restaurant for draft beer, wine, cocktails on tap, or nitro cold brew.   They can be placed almost anywhere since they essentially hang directly from the ceiling or from support beams.  Plus, hanging towers can make cleaning the bar and taps easier.
---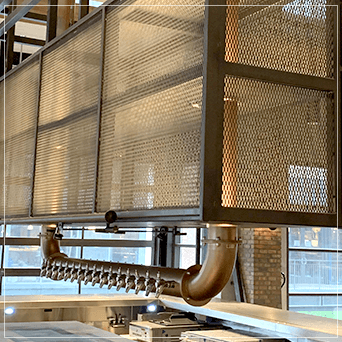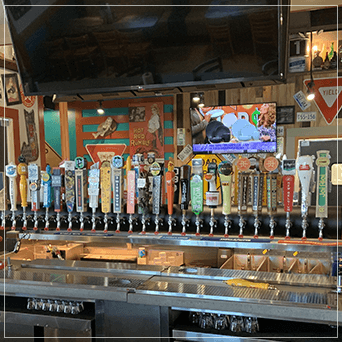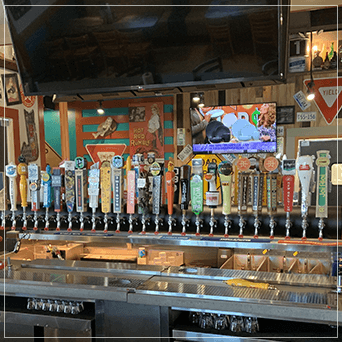 Customize Hanging Draft Beer Towers To Your Space
The customization options for these installations are endless.  Here are just a few ways to customize these systems for your restaurant or bar:
Different shaped bars may require different hanging tower functionality. For example, double-sided towers are perfect for square or U-shaped bars. Double-sided taps also save time since every draft selection can be poured from both sides of the bar.  We can design your tap system based on your bar shape.

These towers can come in any size – from 4 taps nestled in a small area to as many taps as your bar space or customer base permits.

 We offer style selections from rustic to elegant designs, using various finishes from brass and stainless to powder-coated beer systems. 

A custom design to create a statement for your space.
The Powder-Coated Beer System Trend
Although Powder Coated towers can be seen on Thru the Wall Systems, Long Draw Systems, and Keg Boxes, they can also be seen on hanging beer towers. Powder Coated Beer Systems and Towers are becoming ever increasingly popular due to their high-quality finishes, as well as their unique and superior durability. They are created by applying dry powder to a metal finish through an electrostatic process which is then cured with heat.
More Information About Hanging Draft Beer Towers
To find out more information about Hanging Towers or Powder Coated Beer Systems, please Contact Us.
Featured Project Lucky Bastard
Featured Project Lucky Bastard
Nashville has a new honk-tonk, and it's plum hard in this town to create a special, custom look to fit the country theme! This saloon needed a lot of pre-engineering efforts to make the 96-tap system with six custom pipe towers secure.