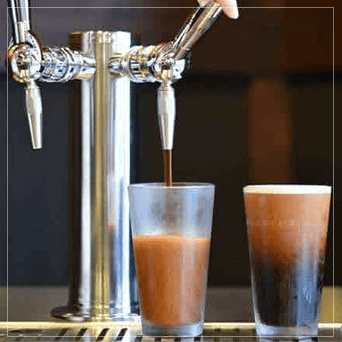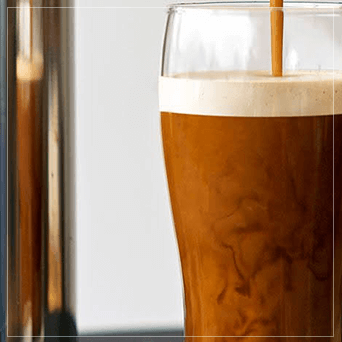 If you're a restaurant, coffee shop, or bar owner, then you already know that serving alcohol-free beverages is essential now more than ever. A Head for Profits offers solutions to create an amazing new revenue stream for your business that's sure to keep your customers coming back for more: A nitro cold brew machine!
Whether you're looking to utilize your existing tap lines and keg systems with the tried-and-true flavors of coffee, or you need a dependable and easy system, all on its own for consistent nitro cold brew offerings on tap, A Head for Profits has got you covered.
WHAT IS NITRO COLD BREW?
Nitro cold brew is a type of coffee that is made by infusing nitrogen gas into freshly brewed coffee. This gives the coffee a creamy, smooth texture and makes it easier to drink. The nitrous oxide process is without bitterness or acids too – perfect for those who are looking to avoid artificial sweeteners in their drinks!
Nitro cold brew also has a higher caffeine content than regular cold brew, so it's perfect for customers who need an extra boost of energy.
Nitro cold brew is different from iced coffee in that it isn't brewed hot, allowed to cool down, and then poured over ice. It doesn't have to be refrigerated either; you can store Nitro cold brew at room temperature for up to two days.
Many are also mixing alcohol with their nitro cold brew to offer fun and creative alcoholic drinks as well.
Call us to get nitro cold brew to provide your customers with the best mouthfeel experience, while providing a non-alcoholic alternative that still measures up to A Head For Profit's quality, flavor, and efficiency standards.
THE BENEFITS OF A NITRO BAR
This is an exciting new offering for your customers to improve sales. A nitro cold brew machine provides a unique and delicious taste that your customers will love! 
Soda sales have decreased in the past years because it's not a healthy choice. Instead of just serving water to your customers, you can now sell them a tasty and creamy nitro cold-brewed coffee!
Benefits of serving nitro cold brew include:
Nitro cold brew keeps longer than hot beverages.

There's no risk involved in letting it sit.

Nitro cold brew will foam in the same appealing way that beer on tap does.

It offers a better alcohol-free experience for your customers. But you can also add alcohol as a versatile drink option.

Nitro cold brew has other benefits as well by giving the appearance of sweetness from its thick, foamy head. 

It's a healthier option for your customers who want that rich and creamy taste without cream or sugar. 

Nitro cold brew is also less acidic and sour tasting than traditional coffee.
Datassential research shows a "166% increase of cold brew on menus over four years, and a 670% increase of nitro on menus over the same period." Nitro cold brew is a hip beverage growing in popularity, so meet the demand by introducing your customers to new flavor experiences.
NITRO BAR TECHNOLOGY: Incorporate our Nitro Cold Brew technology with ease!
We offer systems that are NSF-approved technology. This means that you now can infuse coffee instantly, and it will result in a perfect nitro pour each time. 
For instance, our NIM (Nitrogen infusion module) can be added to any existing cold brew coffee or tea system for consistent pours. Or try our Americano, which is a stand-alone keg cooler where you can have a cold brew line and a Nitro version from the same keg. In addition, we have a Cafe system which is a compact countertop dispenser that flash-chills cold brew coffee. It is ideal for hotels, bars, or restaurants with limited counter space.
No matter how small or large your business is, we have the specific equipment to match your needs. 
If you would like more information on adding Nitro Cold Brew as a menu option for your guests, contact A Head For Profits for details and pricing.
FREQUENTLY ASKED QUESTIONS ABOUT NITRO ON TAP
What is Nitro cold brew? It is coffee that has been infused with Nitrogen.
What does Nitrogen do to coffee? It gives it a silky, smooth, creamy texture with a sweeter flavor & less acidity than conventional coffee.
Can I market my Nitro cold brew as keto, vegan, or vegetarian? Yes to all three! There's no sugar, calories, or carbs.
Is Nitro cold brew healthier than coffee? Frequently it is because the sweet flavor of nitro cold brew means most people don't need to add sugar milk or creamer.
Is Nitro cold brew good for sensitive stomachs? With lower acidity, it's a great option for people with sensitive stomachs.
Is using Nitrogen in my business's drinks safe? Absolutely, Nitrogen has been used in drinks for centuries. It's a naturally occurring odorless and transparent gas.
How long is Nitro cold brew safe to sell? Inside the keg, Nitro cold brew will remain good for one to two weeks. Nitrogen is a natural preservative.
Is Nitro cold brew the same as iced coffee? No, iced coffee is simply hot-brewed coffee poured over ice.