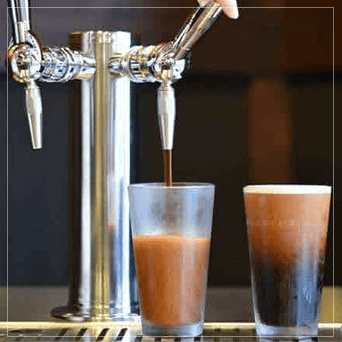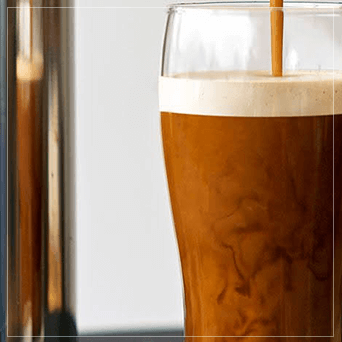 It's not your average Cup of Joe!!!! Nitro Cold Brew on tap is an amazing new revenue stream for your business. Did you know that nitrogen is 80x less soluble than CO2, making it difficult to infuse into liquid? This means that if you use carbonating tanks or stones to make nitro coffee, it can result in an inconsistent product.
We offer systems that are NSF-approved technology. This means that you now can infuse coffee instantly, and it will result in a perfect nitro pour each time. No matter how small or large your business is, we have the specific equipment to match your needs. For instance, our NIM (nitrogen infusion module) can be added to any existing cold brew coffee or tea system for consistent pours. Or try our Americano, which is a stand-alone keg cooler where you can have a cold brew line and a nitro version from the same keg. In addition, we have a Cafe system which is a compact countertop dispenser that flash-chills cold brew coffee. It is ideal for hotels, bars, or restaurants with limited counter space.
Nitro cold brew has other benefits as well by giving the appearance of sweetness from its thick, foamy head. It's a healthier option for your customers who want that rich and creamy taste without cream or sugar. Nitro cold brew is also less acidic and sour tasting than traditional coffee. Learn more about Nitro Coffee here.
This is an exciting new offering for your customers to improve sales. Soda sales have decreased in the past years because it's not a healthy choice, so instead of just delivering water to your customers, you can now sell them a nice, creamy Nitro Cold-Brewed coffee!