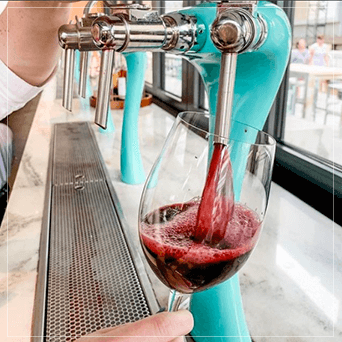 Do you remember when screw caps on wine bottles were looked down upon and not accepted by wine industry professionals? We do too. 
Now we are moving into a new era and into serving fresh wine out of kegs, but again professionals are looking down on a new idea.  When wine is served out of kegs, there is no loss of flavor due to oxidation and kegs are 100% recyclable unlike the waste that exists when you serve multiple bottles of wine.  Serving wine from kegs ensures each bottle of wine reaches your customers in peak condition.
THINK OF WINE ON TAP AS THE BETTER WAY TO FRESHER WINE
Once a bottle of wine is opened, oxygen will begin to change the taste of the wine. Unless the entire bottle is sold shortly after it's opened, glasses served the day after will not taste the same and only get worse over time. The result is inconsistent pours or complaints from customers, which could lead to wasted product.
This doesn't happen with draft wine on tap because the wine is constantly pressurized by an inert gas inside the keg, preventing oxidation. This allows every drop to be served and the revenue collected with no returns.
Think of wine on tap as the best way to serve wine in your restaurant. It's perfect for every bar, restaurant, coffee shop, hotel, or any other wine-by-the-glass establishment.
SAVE TIME AND MONEY
The time it takes to complete a traditional wine service can be long and complicated for any service employee. 

Your bartender or server must select the bottle, present it at the customer's table, perform an expert cut of foil, pull out their professional corkscrew, and finally pour a taste test for the interested customers. After all that, the customer might decide not to go with that wine, and the entire bottle is now compromised.
The on-tap wine is a time-and-money-saving alternative to this traditional method. There's no more need for uncorking and pouring, you can quickly serve guests without any hassle! In addition, wine on tap prevents the product from spoiling due to oxidation or cork taint.
WINE ON TAP IS ECO-FRIENDLY AND SUSTAINABLE
Still not convinced? What do you think about wine stored in kegs from a green perspective? 
Below are some stats that our friends at FreeFlow Wine compiled:
With reusable stainless-steel kegs, the CO2 footprint is reduced by 96%.

It is equivalent to planting 28 trees to save the same amount of CO2.

Putting a steel keg into service eliminates carbon emissions equivalent to taking a car off the road for two years.

Each steel keg will save 2,340 lbs. of trash (think of all the wine bottles) from being deposited into landfills over its lifetime. Think all the wine bottles saved!

HOW WINE ON TAP WORKS
The same principles apply to wine on tap as they do to draft beer. The kegged liquid (in this case, wine) is forced out of the keg valve into food-safe plastic tubing
by the pull of a tap handle. Afterwards, it is dispensed into a glass.
Now you can serve high-quality drinks at lower prices with no waste – all thanks in part because of this innovative technology. A Head for Profits would love to assist you in installing and maintaining it.
Featured ProjectSixty Vines
Featured ProjectSixty Vines
When you are looking to wine and dine someone, this is a cool place to go. With over sixty varietals of wine on tap, and both draft beer and cocktails on tap as well, you are pretty much covered! A Head For Profits was honored to install their wine on tap, beer on tap, and cocktails on tap systems in the new Nashville location.